Keeping Up With Trends: Historical Events that Redefined the Face of Fashion
19th May 2020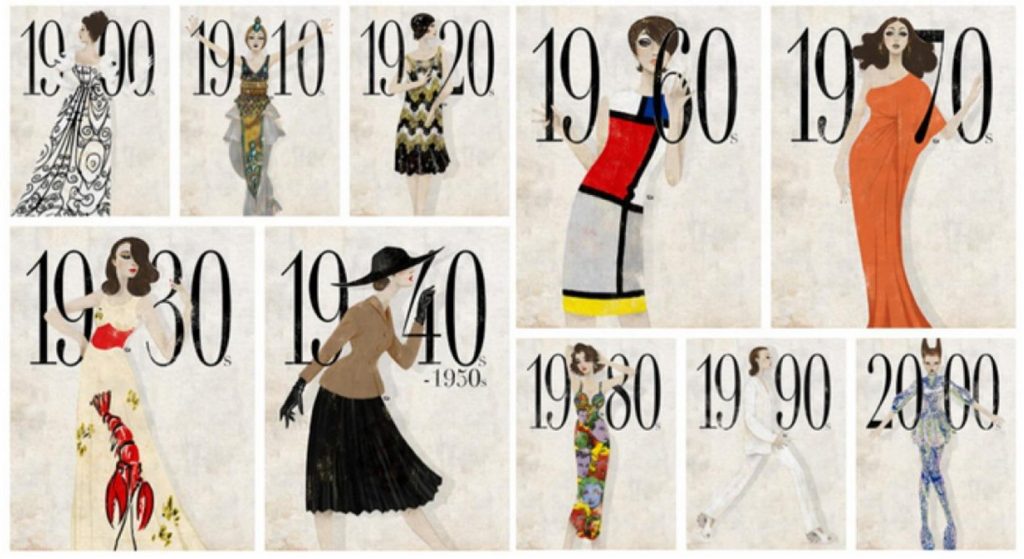 In a world surrounded by the coronavirus and trends predicting what comes next, let's take a look at all the major historical events that changed the face of fashion as we know it today.
It's a known phenomenon that fashion is greatly influenced by history, pop culture, celebrities, musicians, aristocrats, movies, shows, books, and the likes. From corsets to bell-bottoms, the length of the skirt to size of the heels, everything that we see today has a tinge of history associated with it.
The onset of Corsets: With narrowed waistlines and hourglass figures trending throughout the middle ages, corsets did more damage to the female body than add beauty. But as the French Revolution came to an end, traditional corsets faded and shapewear became more popular until very recently, they made a comeback on the runway.
Genes of Jeans: Jeans and overalls were used by workers or miners because of the durability of fabric and pockets to store tools until Levi Strauss in 1871 commercialized it and as of today literally every person owns a pair of jeans!
World War I: As men went to war and women moved out of homes to work, comfort became a priority and long skirts moved out to make way trousers for workplace, with Coco Chanel being the revolutionary designer who borrowed her boyfriend's suits and wore sailor pants as she began designing trousers for women.
The Great Depression: As hemlines grew higher, the market fell lower, with the stock market crash in 1929. This influenced the trends to become more narrow and conservative, but with Hollywood being idolized sparkle, velvet, fur, and everything luxury was in demand.
World War II: With the onset of the second world war, everything lost its luster, materials became rare and even illegal, and clothes were being made from whatever materials were found at home. Darker colors and fewer prints were seen.
Prêt-à-porter: The French term for 'ready-to-wear' set in as everything became made to order. This reinvented the way people consumed fashion as standard sizes were invented and fashion for the masses became a thing.
Minis and more: As the feminist movements grew more popular, mini skirts became a symbol and icon of women's freedom and rights. Followed by hipster trends where bright colors and prints were all around, followed by hip-hop styles that were revolutionized by Dapper Dan.
Street Savvy: The new decade of the 21st century began with street style. The more 'real' and basic style of the public began catching people's eyes than just the Avant-Garde shimmery celebrity styles.
Plus Size Movement: As the Wall Street crashed and numbers on the stock market dived deeper, plus size fashion rose its voice with limited retailers and e-tailers representing them.  This trend still continues, more evidently with collective responsibility by brands on and off the runway. Hashtags like '#effyourbeautystandards' and '#celebratemysize' gained popularity on social media while more plus-sized models walked on the runway.
Sustainability and Minimalism: Amidst global warming and climate change concerns, people became more conscious of what they consumed and brands shifted to greener value chains. Minimalistic style and athleisure came into fashion with 'less is more' and being fit ideology on people's minds, as opposed to extravagance in the past.
Blogger Bandwagon: With the surge in usage of social media, bloggers and influencers became, and still are fashion icons. With millions of followers on social media and followers resonating with their style, this trend is for sure to stay.
Quarantimes: The onset of the Coronavirus Pandemic led locked the entire world down. People are inside their homes, masks, gloves, and sanitizers have become essentials and maybe even fashion. As stores close, brands have shifted online and welcomed digitalisation to keep themselves going.
History is evidence that the world has time and again faced a difficult situation. As humans we have gone through so much with the motive to 'Improvise, Overcome and Adapt.' More so to take advantage of that as an opportunity to learn and make way for newer and better things. And as for the current pandemic, we will emerge from it as more conscious, awakened, and more skilled people, because fashion changes but style remain eternal.
---
Written by Heena Manghani:
With a background in Journalism and Mass Media, Heena developed strong skills in communication and content creation. She is currently pursuing her dual city Masters in Global Luxury Brand Management in SP Jain School of Global Management and Politecnico Di Milano.1