Most Luxurious Yoga Mats to Invest in Right Now
20th November 2020
Practice yoga, but make it fashion
Yoga is a practical aid, not a religion. It is an ancient art based on a harmonizing system of development for the body, mind, and spirit. The continued practice of yoga will lead you to a sense of peace and well-being, and also a feeling of being at one with their environment. This is a simple definition made by yoga.org.nz.
Keeping it luxurious, yet functional. These precious yoga mats will take your 'extra' yoga sessions to the next level.
Take a look at some of the most expensive yoga mats in the world. These should give you some extra boost to workout.
"YOGA MAT", 255 USD, OFF-WHITE
Decked out with Off-White™'s logo emblazoned across one side, and a large "WOMAN" in the cursive text on the other, the mat measures 173cm x 61.5cm edge-to-edge. The piece also comes with a neat wrap to help you store it when rolled, taking on the iconic "SHOELACES" tie that is often seen on Virgil Abloh's footwear pieces.
---
No Ka'oi mat, 415 USD, SAINT LAURENT
Yoga mat decorated with the Saint Laurent Paris signature in collaboration with No Ka'Oi. This Saint Laurent Rive Droite exclusive is made in Italy.
---
Burberry and Liforme Monogram Motif Yoga Mat, 420 USD, BURBERRY
Brown rubber x Liforme Monogram Motif Yoga Mat from Burberry featuring non-slip rubber, PVC-free design, alignment markers for guided poses, and a monogram motif. This item comes with a protective case.
---
Loewe Meraid-print Leather-strap Yoga mat, 490 USD, LOEWE
Loewe's yoga mat has been made in Spain from soft microfibre and features Paula's Ibiza signature mermaid print. It comes with a long leather strap for easy carrying to and from the studio.
---
Ermenegildo Zegna yoga mat, 500 USD, Ermenegildo Zegna
You're nobody until you travel with your own Ermenegildo Zegna yoga mat. Black and grey Ermenegildo Zegna Couture logo print yoga mat with a brand stamp at underside. Includes carrying strap.
---
Baller Yoga LXXX Mat, 1,500 USD, Baller Yoga
BallerYoga mats begin with the same Horween Tanned-In-Tack football leather used by professional ballers and finish with a contract manufacturer specializing in high-end leather goods.  Everything from the leather to the lace is 100% Made in the USA.
---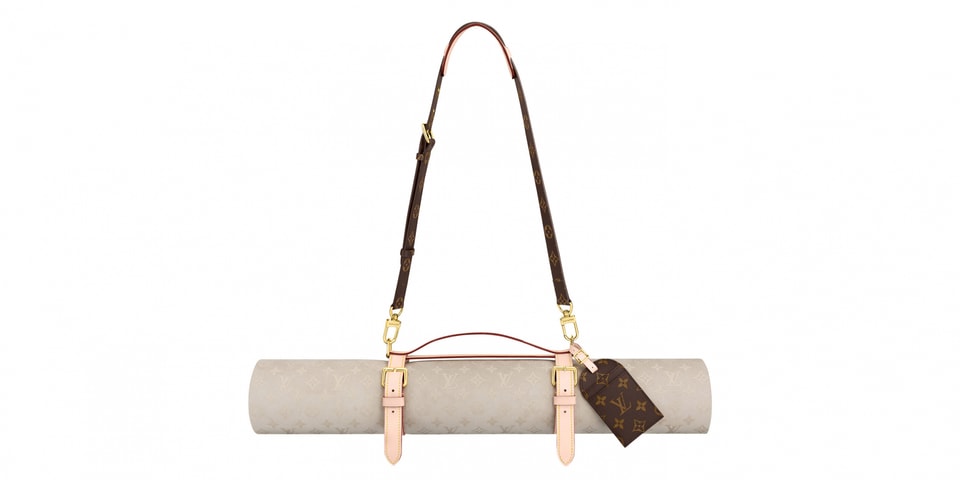 Yoga mat, 2,390 USD, LOUIS VUITTON
Meditative stretching takes on a sleek bent with the Louis Vuitton yoga mat. It comes detailed with luxurious House signatures, including natural cowhide leather details and a Monogram canvas strap and cardholder. The mat itself is supple to the touch and features a nonslip finish for safety.
---
Chanel yoga mat, 8,860 USD, CHANEL
Here's a yoga-paraphernalia no lotus-position loving girl (or boy) should be without. This yoga mat will come in handy when you feel the intense need to meditate.
---
HERMÈS Yoga mat, 20,000 USD, HERMÈS
You can now do the downward dog on a Hermes yoga mat for 20,000 USD. If you've been struggling to nail your advanced yoga poses or meditation practice, Hermes has something that might help. Cue the Parisian house's premium yoga mat, which comes in a handy bag for "the promise of a peaceful and relaxed practice in a distinctive style."
---
Chakracarma mat, 15,000-100,000 USD, CHAKRACARMA
Made of handcrafted leather and studded with precious gemstones, the mat aims to help you activate your chakras and offer a luxurious healing experience. You'd better hope for a truly transcendent experience, however, because prices for a Chakracarma mat start from 15,000 USD up to 100,000 USD.
Would you buy one of the most expensive yoga mats in the world?