The Luxury Network Nigeria In A Partnership With The Financial Times
29th October 2019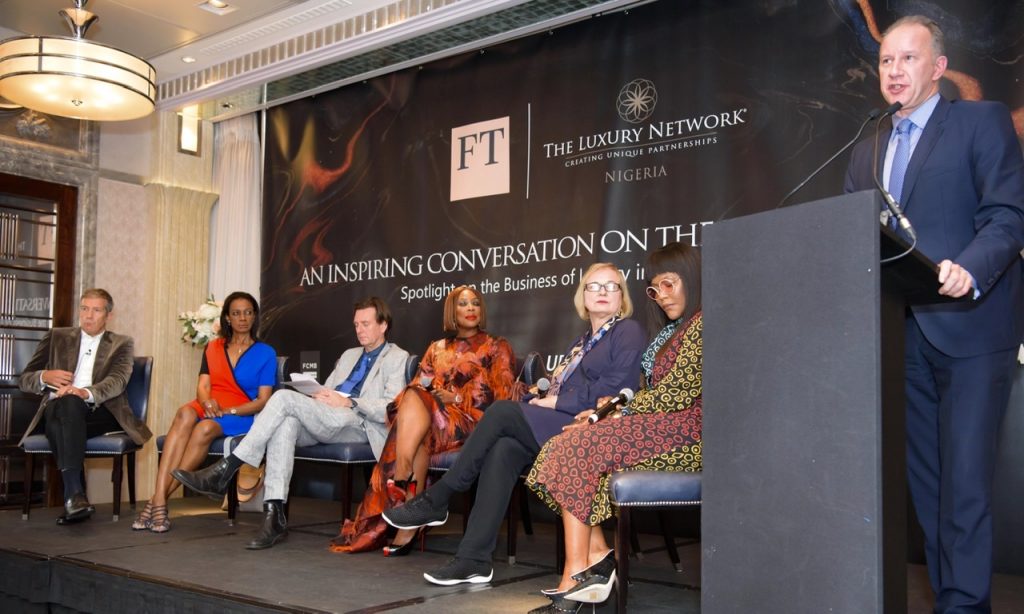 On the 15th of October 2019, the day following the FT Africa Summit, the conversation continued with a Panel Discussion titled, An inspiring conversation on the Future of Luxury: Spotlight on the Business of Luxury in Nigeria. The exclusive event, held at the prestigious Connaught Hotel in Mayfair, in partnership with The Financial Times was the brainchild of Cas Ojo, Managing Director of The Luxury Network Nigeria.
The event was part of a wider strategy to drive the discussion about luxury in emerging markets. The event, put the spotlight on Nigeria's dynamic luxury sector, with insights from the players in the country's key industries, world-renowned luxury brands, retailers and pioneering visionaries, on overcoming the barriers to entry, ethical luxury practices and building transparent, sustainable and value-driven business partnerships.
On the night, guests were welcomed with fine wine and canapés in the elegant Maple Room at the Connaught. The guests were then ushered downstairs to the exquisite Mayfair Room, where David Pilling, Africa Editor of The Financial Times, gave a welcome speech to kickstart the evening.
James Benoit, CEO, FCMB UK, started the conversation with a brilliant keynote address on rewriting Africa's single story. This was followed by Opening Remarks by Cas Ojo, the Managing Director of The Luxury Network Nigeria.
Next David Pilling, expertly engaged the Panelists, one after the other, in a riveting and truly inspiring discourse that captured the full attention of the audience. Guests listened with interest, as each Speaker shared from personal experience and diverse professional backgrounds.
On the panel was Mo Abudu; CEO of EbonyLife Media, Reni Folawiyo; founder and CEO of Alara, Tom Meggle; former Managing Director of Louis Vuitton UK, Ireland and South Africa and founder of Momentom8, Bola Atta; Group Director of UBA (United Bank for Africa) and Brigitte Stepputtis, Global Head of Couture for Vivienne Westwood.
Closing the night, Helena Warren, Global Head of business development at The Luxury Network International, introduced some brilliant company presentations from a selection of Nigerian-owned luxury brands including Polo Luxury Group, Lux Afrique, Titi Adesa, A Complexion Company, and a representative from the Tobi Adegboyega Foundation.
It was a refreshing and inspiring event. Over 100 guests had come together with a shared goal – to discuss the potential of the luxury industry in emerging markets and the event was very well received by all. The event was a huge success and plans are underway for the next instalment.